By GSMArena.com - Latest articles -- 2019.08.12. 14:00 in category
(Number of votes: 0)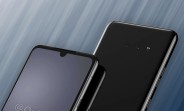 LG is teasing a dual screen phone ahead of its appearance at IFA - a followup of the LG V50 ThinQ and its second screen accessory. The LG G8 ThinQ might get a successor of its own and it will look like this.
The LG G8X moves from a dual to a single selfie camera, which means a narrower teardrop notch. There's a regular earpiece near the lone selfie camera, so the G8X will not use the Crystal Sound OLED speaker tech.
The screen grows a tenth of an inch to 6.2", so it will offer even more screen real estate. The phone grew along with it, measuring 159.3 x 75.8 x... ...
Publicerad av:
GSMArena.com - Latest articles
- Monday, 12 August
Relaterade Nyheter LG G8X images show a bigger screen with a smaller notch, 3.5mm jack
äldre nyheter
Rivalitet och skandaler i första trailern för Apple-serien The Morning Show gamereactor (I morgon) - Teaser trailern till Apple TV-serien The Morning Show som släpptes förra veckan var inte mycket att hänga i granen då klippet mest visade oss omkring i en TV-studio, men... ]]>...
Oppo Reno2 get certified by TENAA and 3C, images and specs arrive GSMArena.com - Latest articles (I morgon) - Oppo is gearing to introduce the second generation in its Reno line soon and two devices bearing the PCKM00 and PCKT00 model numbers just passed through Chinese certification agencies TENAA...
vivo NEX 3 live image shows waterfall screen GSMArena.com - Latest articles (I morgon) - After teasing the waterfall screen and design sketch of the upcoming vivo NEX 3, the brand's Product Manager Li Xiang continued his teaser campaign by showing out the phone in...
Officiell trailer för Apples "The Morning Show" #teknikveckan Aapl.se (2 dags ago) - För ungefär en vecka sedan bjöds vi på en teaser av Apples kommande serie "The Morning Show" som kommer lanseras på bolagets kommande streamingtjänst Apple TV+.Nu har de släppt en...
Apple släpper en ordentlig trailer för The Morning Show #99se Aapl.se (2 dags ago) - Det är inte bara en speltjänst som Apple kommer lansera i höst utan även en egen streamingtjänst och nu har en fullfjädrat trailer för "The Morning Show" släppts....
Redmi 8 appears in hands-on images GSMArena.com - Latest articles (2 dags ago) - After passing through Chinese certification agency TENAA and revealing its key specs, the Redmi 8 was spotted in live pictures. In addition to showing us the design of the phone,...
Brittiläis-kanadalaiselta vierastaistelija "Jihadi-Jackilta" vietiin Britannian kansalaisuus – Kanada syyttää vastuun pakoilusta iltalehti.fi (2 dags ago) - Kaksi vuotta vangittuna ollut Jack Letts ei väitä olevansa syytön, mutta haluaisi tulla rikoksistaan tuomituksi Britanniassa. Vuonna 2014 Jack Letts lähti kotoaan Oxfordshiresta taistellakseen Isisin riveissä. Nyt Britannia on evännyt...
Amazon Echo Show 5 review GSMArena.com - Latest articles (2 dags ago) - The Echo Show 5 is the latest in the family of Alexa-based Echo devices from Amazon. The Echo Show 5 is the smaller version of the massive Echo Show and...
"Jihadi Jack" sviptur ríkisborgararétti mbl.is/erlent (3 dags ago) - Bresk stjórnvöld hafa svipt ungan mann ríkisborgararétti sínum. Um er að ræða Jack Letts, sem kallaður hefur verið "Jihadi Jack" í umfjöllun fjölmiðla, en hann var fyrsti hvíti Bretinn til...
Samsung Galaxy Note10+ in for review, camera samples inside GSMArena.com - Latest articles (3 dags ago) - This is the Samsung Galaxy Note10+ - Samsung's fall flagship, its biggest screen phone so far and right now, its most important phone.The Galaxy Note10+ is an amalgamation of Samsung's...